Black celebrities revolutionizing the hair game in 2022 
Black celebrities have created countless hair trends, serving and slaying different hairstyles to showcase the versatility of black hair truly. So, you know you can count on black celebrities to always have their hair game on point.
Black celebrity icons like Rihanna, Beyonce, and Ciara have inspired fashion-conscious women to be bold and daring with their looks.
So, is it a surprise when clients bring photos of popular black celebrities for inspiration?
Let us celebrate the top 11 hairstyles worn by our favorite black celebrities that your clients can use as hair inspiration to up their hair game!
Make sure you have plenty of hand-crafted virgin human hair extensions and wigs in stock from India Hair International to help your clients embody their favorite black celebrities through gorgeous hairstyles!
1. The Pixie Queen Rihanna
Rihanna's pixie cut
Rihanna is renowned for fearlessly experimenting with her looks.
We all knew her as the talented island girl who dazzled us with "Pon De Replay" in 2005. But as she has grown and matured, so has her style, including her hairstyles.
Let's face it, she has had a lot of iconic hairstyles over the last few years, but she always looks her best with playful and sassy short hair.
In this list of iconic black celebrities' hairstyles, Riri flaunts a black pixie cut that is equally as tough and tenacious as she is. Not many people can pull off this daring look as she can.
2. Ciara's Bronde Curls
Ciara's bronde curls
While most black celebrities flaunt beautiful yet bold hairstyles that are surely loved by all, Ciara enhances the beauty of her long hair with charm and originality.
She is among the many talented black celebrities with her hair on point!
Who can forget her lioness mane of bronde curls that highlighted the eye-catching golden tones of her long and luxurious locks?
3. Eva Marcille's Platinum Pixie
Black celebrities with blonde hair are the perfect combination.
Nowadays, black celebrities with blonde hair have become fashion staples, and we all know how fantastic that looks on short hair.
This platinum hair color looks stunning and bold on Eva Marcille's beautiful skin tone.
Since the black roots on this pixie give it an edgy look, we recommend giving your clients the option to work on their colors.
4. Gabrielle Union's Textured Ponytail
Black celebrities making a fashion statement with their hair
Every time we see Gabrielle Union on our screen, we know she will serve and deliver with her hair!
Here, she is flaunting her sleek textured ponytail with golden hoop earrings. The ends of her ponytail are thinned to give it a unique yet stylish look.
Overall, we love the illusion of her hair falling downwards and looking flawlessly flowing like the sea. The deep dark color gives the style depth that it deserves.
5. Kat Graham Short's Sleek Bob
Black celebrities with a sleek bob
Nothing is more alluring than looking effortlessly stunning.
While Kat Graham's side-parted short bob with slightly curled tips isn't a new hairstyle, it's how she wears it so confidently that makes women want to try it!
Her hairstyle looks even more vibrant with deep chocolate brown color that oozes boldness.
6. Jada Pinkett Smith's Sun-Kissed Pixie Cut
Short, bold, and beautiful black celebrities' hairstyles
Whether a pixie haircut or a flawless blowout, Jada Pinkett Smith rocks beachy hairstyles.
Jada gave herself a smart pixie cut with just the right touch of amber. Her skin tone is complemented by warm browns and tans that give her look that sun-kissed vibe.
The deep side part and hair flip only enhance the roots' volume.
7. Ciara's Black & Blonde Combo
The black and blonde combo
Yes, Ciara is back on our list because she knows how to style her hair to enhance her beauty!
Ciara has recently emerged as the ultimate stylish trend-setter. She was rocking the raven tresses with blonde highlights long before other black celebrities did and looked stunning.
This hairstyle makes her eyes pop, and she brings focus to her gorgeous bone structure!
8. Esperanza Spalding's Full Afro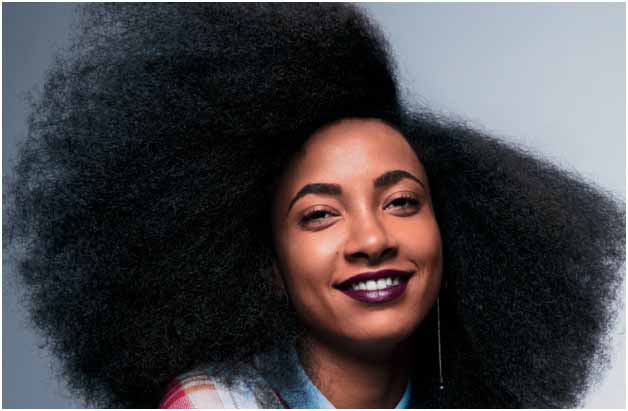 Esperanza Spalding, one of the most iconic  black celebrities jazz bassists
Women in the curly-haired community have long adored Esperanza Spalding because of her flawlessly styled 'fro, reminiscent of Erykah Badu.
Spalding is candid about maintaining her natural black hair that does not lose its natural state. She has only ever worn her hair in this style and enjoys it the way it is.
You, girl, have shown us that natural beauty is superior to any other style!
9. Michelle Obama's Timeless Waves
The former first lady makes it on the black celebrities' hairstyles list.
Michelle Obama is known for wearing gorgeous and timeless hairstyles. One of her best looks features a short bob with fabulous waves.
This hairstyle has a ton of volume and a side part with lush waves that elegantly caps it off. She maintains a natural color that goes well with the texture.
You can give your clients the former first lady's look using Indian Wavy Lace Front Wig. Trust us – your clients will love the thick and luscious wavy hair texture that screams elegance and class!
Paula Patton's Half-up Hairstyle
Half-ups always look good on her.
Here is a confession: Everyone wants a Paula Patton hairstyle.
She is stunning beyond belief, has a flourishing acting career, and has stunning hair.
We adored Paula's hairstyle from the 2013 ESPY Awards, which features her long brown hair with curly ends. She let her free curls fall naturally while wearing her bangs half up.
10. Beyonce
Queen B is the last on this black celebrities' hairstyles list but is the best.
Last but certainly not least, we have Queen B.
She is one of many celebrities that comes to mind when you think of unforgettable black celebrities' hairstyles.
In the past 20 years, Queen B has changed over 40 hairstyles, all of which were distinctively gorgeous.
Among her many signature hairstyles, we love her long golden brown curls, which give her the appearance of a Greek goddess. She wore her hair in a side part, making her the ideal girl next door!
Conclusion
These are the top 11 hairstyles worn by black celebrities, and we can all agree that these looks are making a huge comeback this season.
We are confident that your creativity is not limited to the examples above, but a little inspiration never hurts.
Get yourself some quality hair extensions from India Hair International and start creating your magic on your client's hair.
Need some hair inspiration for protective styles? Check out 9 Trending Curly Weave Hairstyles of 2022 To Impress Your Clients With!