The Fourth of July is just around the corner, and it's time you start planning out the details for your summer barbeque celebration. Of course, hosting a Fourth of July BBQ party requires more than just grilling equipment and delicious food. You also need to provide your guests with a cheerful ambiance to enjoy all the yummy food and beverages you've laid out for them.
It's time to revisit your patio and rethink all your décor and design ideas for the big day. Here are a few things you should consider doing ASAP to prepare for your party.
Arrange Patio Furniture
Unless you frequently hang out on your patio, you may not be oblivious to the chipped and dusty furniture sitting outside. Don't wait until the last day to attend to these fixtures and clean your furniture. Do a quick survey and decide what exactly needs to be done well in advance.
For instance, you might notice the patio swing is leaning dangerously toward the left or that the cushions on your patio chairs show signs of wear and tear. This isn't something you want your guests to see, is it? Make arrangements right away and take care of the furnishing on your patio.
While you're at it, also tally your furniture with your guest list. Do you need more chairs or floor cushions? Are there enough tables to hold the food and other supplies? You've still got time to arrange for extra tables and chairs; avail it!
Think of the Lighting
Your barbeque party may start before dusk, but you won't have natural lighting for the rest of the evening. To avoid grilling burgers and hotdogs in the dark, make sure you've arranged for proper lighting.
If your patio doesn't already have sufficient lighting installed, now's the time to address that. In addition to this, you should also consider getting some decorative backyard lights. String lights are affordable and effective, making for the perfect BBG Night décor. Not to mention, they make your patio look gorgeous and add to the visual appeal.
Get a bunch of string lights and hang these up on the walls, wrap them around trees and hedges, or make pretty garlands for your tables.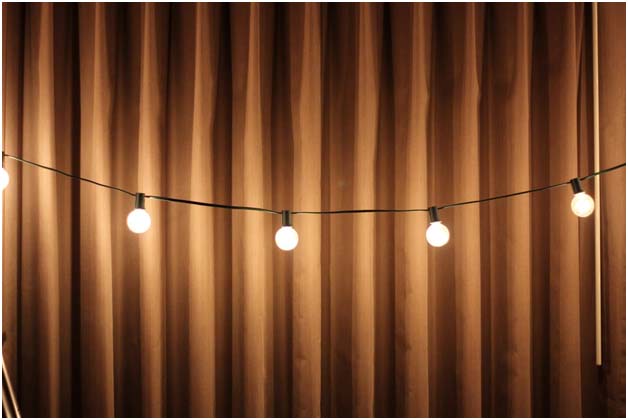 Add Some Red, White, & Blue
It won't be a 4th of July party without the traditional American colors! Adding the three colors of the US flag to your décor is a great way to spruce things up. The best part about this is that you can incorporate these colors in several ways.
For instance, why not make small bouquets of red, white, and blue wildflowers for your centerpieces? Alternately, you can place American flag-inspired wreaths around the patio. If flowers aren't an option, you always have pom-poms, ribbons, and garlands to use for your party décor. And of course, let's not forget about the actual flag.
If you don't want to spend too much on décor, think of ways you can introduce the traditional colors to your menu. Cocktails, slushes, pinwheel sandwiches, candies; the options are endless. You've just got to be creative with your party food!
Include Modern Patio Doors
Finally, don't forget to revamp your patio doors before your party. An excellent way to do that is by investing in modern iron or steel patio doors. Replacing your existing door with a modern entry door like the ones available at Pinky's Iron Doors is a foolproof way to impress your guests and make the most of your patio.
For example, you can insert double flat steel doors to your patio. This door style complements all types of patio designs and is extremely easy to operate. Alternately, adding modern French doors to your patio is another way to add to its charm. It'll provide instant access to the indoor space, making it easy for your guests to visit the bathroom or lounge area.
Then there are steel sliding doors that are perfect for maximizing your indoor and outdoor views. Your guests will be mesmerized by the picturesque view of your home, and the sliding door will add a touch of elegance to your patio too. Moreover, they'll also help you maximize your patio space for your barbeque equipment and décor.
Excited about your annual barbeque party? Make sure you start planning in advance to avoid any last-minute issues and delays! Get a sleek new exterior door for your patio at your earliest to prepare your outdoor space for your party.
At Pinky's Iron Doors, you can choose from a wide range of steel interior doors and exterior doors for your patio. They also provide an impressive collection of wrought iron doors that can be used as patio doors.
Get in touch with them today for the ultimate patio door for your house in Georgia! You're not going to regret this.
The author of this guest blog is a Georgia resident who has a keen interest in home and lifestyle, interior décor, and party planning.